Authors: Ria J. Gualano*, Lucy Jiang*, Kexin Zhang*, Andrea Stevenson Won, and Shiri Azenkot (* indicates co-first authorship and equal contributions).
Through this project, we aim to fill a gap in current accessibility research by focusing on the experiences of people with invisible disabilities (e.g., chronic health conditions, mental health conditions, neurodivergence, etc.) and preferences regarding disability disclosure practices in virtual embodied spaces. We conducted semi-structured interviews with 9 participants, some who identified as neurodiverse and others who identified as having chronic conditions such as rheumatoid arthritis. Of the 9 participants, 4 were Caucasian, 2 were Mixed-Race, 1 was Alaska Native, 1 was Asian, and 1 was Black. We used thematic analysis to conduct open coding and develop our codebook.
At present, there are not many customization features for invisible disabilities in social VR platforms, if any. As the first study on invisible disability representation in social VR, we found that people with invisible disabilities used a unique, indirect approach to inform dynamic disclosure practices. Participants were interested in toggling representation on/off across contexts and shared ideas for representation through avatar design (e.g., disability-related logos and patterns on apparel, floating energy bars that correlate with their energy levels). In addition, they proposed ways to make the customization process more accessible. We see our work as a vital contribution to the growing literature that calls for more inclusive social VR.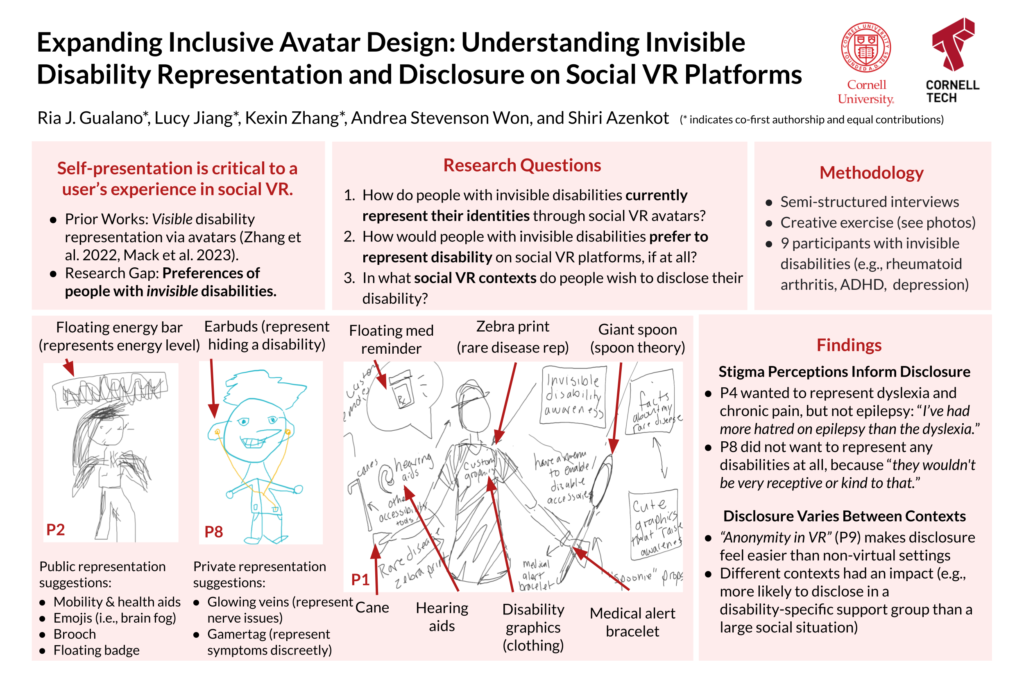 Poster of Expanding Inclusive Avatar Design. See on Google Slides