Announcing the 2020 XR Access Symposium
July 20-21, 2020 | New York City
At the 2020 XR Access Symposium, we're reviewing the state of the XR field, celebrating a year of progress toward accessibility, and taking steps toward a more inclusive future. Apply to join us today!
About the Symposium
Where We've Been
The XR Access Initiative kicked off in Summer 2019 with the first XR Access Symposium. Over 120 technologists, advocates, researchers, and industry leaders joined us for talks, demos, and working group sessions that generated actionable plans for making XR more accessible.
For the past year, that's been our mission – to ensure that as XR technologies become more pervasive in our work, school, and social lives, they'll be designed and developed to be accessible by and for people with disabilities.
Where We're Going
At the 2020 XR Access Symposium, we'll review the community's progress over the past year, highlight the latest advancements in XR accessibility research and implementation, and take concrete steps toward a more accessible future.
To get there, we're planning two days of talks, groundbreaking tech demos, and working group and research meetings. Our speakers and agenda will be announced over the coming weeks and months, so keep checking this site for the latest updates.
Space at the symposium is limited, so if you're interested in attending, please apply using the form below.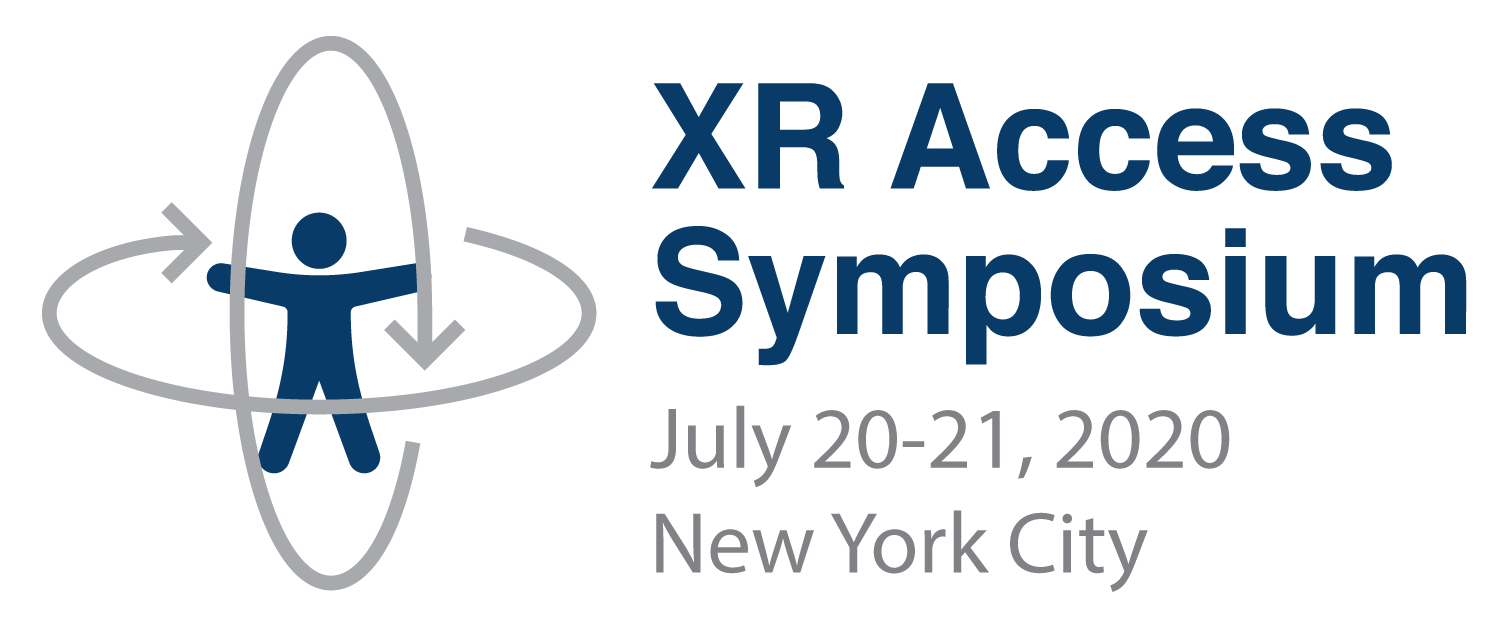 We understand that this is an uncertain time for travel, and we're committed to ensuring the health of XR Access participants. We are monitoring the COVID-19 situation in New York City closely and will alert attendees immediately if we anticipate that the symposium will be impacted, or will be virtualized entirely. If you're facing travel restrictions, we can work with you to find virtual opportunities to participate remotely.

Symposium speakers and panelists will be announced soon!
Symposium XR hardware, software, and content demos will be announced soon!
If your company or group would like to demo at the symposium, please contact us at info@xraccess.org.
Interested in attending? If you're an expert in XR or accessibility, or you're a researcher, developer, designer, advocate, or policymaker, we'd love to hear from you! Fill out this application form by April 15, 2020, and we'll get back to you with a decision by May 1.
The 2020 XR Access Symposium is made possible by the generosity of these sponsors. If your organization would like to sponsor the 2020 symposium, please contact Jessie Taft, XR Access Initiative Coordinator, at jgt43@cornell.edu